What Employers need to consider
This review covers the following factors:
Charges – Employer and Employee
Tax Relief
Online Access – Employer and Employee
Retirement Tools & Calculators
Administration
CHARGES & TAX RELIEF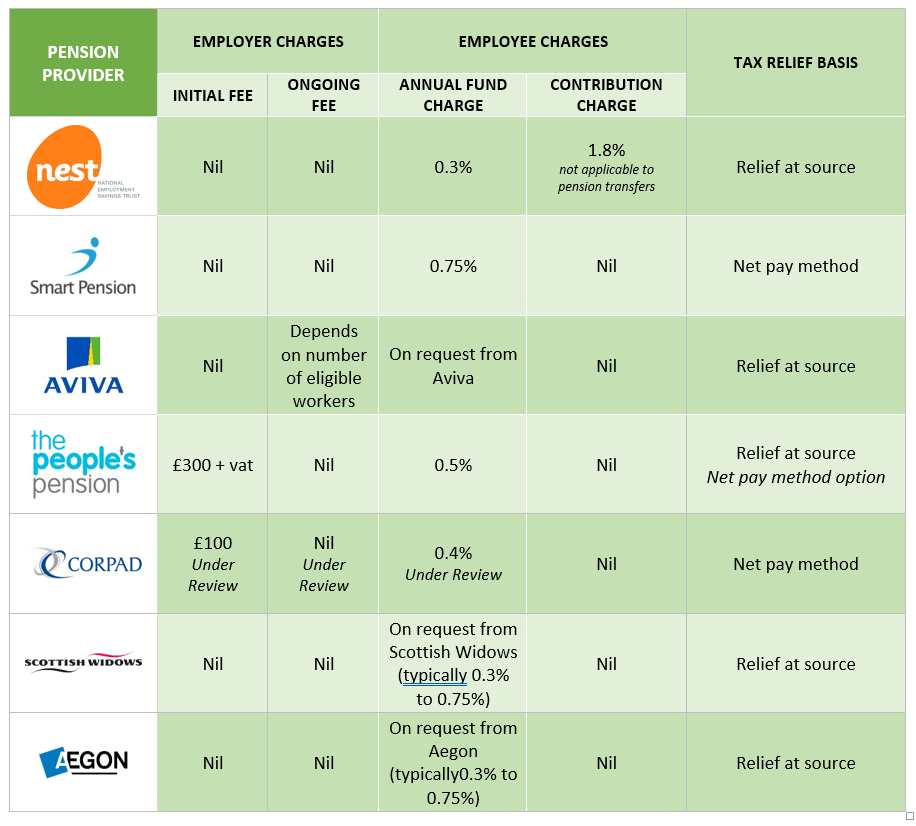 ADDITIONAL EMPLOYER CHARGES
Certain pension providers have employer pension charges. These fees are charged by the pension provider to cover the cost of running your pension scheme and providing ongoing administrative support. The additional employer charge can either by an initial 'one-off" fee or a regular ongoing monthly or annual fee.
Any additional employer charges are over and above the regular fee charged by Workplace Pensions Direct which is for ongoing legislative and technical support and assistance.
EMPLOYEE CHARGES
As with all workplace pension schemes, your employees will have to pay an annual fund charge to cover the costs of running their scheme on their behalf. This is deducted directly from their pension plan, so they don't have to do anything.
Government guidelines specify that this fee will be never be more than 0.75% of the employee's pension pot per year. That's the equivalent of just £7.50 for every £1,000 they have invested.
TAX RELIEF
There's often confusion about the two methods for giving tax relief on employee contributions to workplace pension schemes. These are:
Relief at source: this requires net contributions
Net pay: this requires gross contributions
Relief at source – net contributions
Group personal pensions (GPPs) generally use 'relief at source' and occupational pension schemes (OPSs) generally use 'net pay'. Which method a scheme operates determines how employers must deduct employee pension contributions from earnings when running payroll.
NON TAXPAYERS WILL RECEIVE TAX RELIEF AT SOURCE USING THIS METHOD
Higher and additional rate taxpayers have to claim further tax relief via their self-assessment tax returns.
Net pay method – gross contributions
Used primarily by trust-based Occupational Pension Schemes, such as Master Trusts.
The employer deducts the gross member contribution from the employee's earnings before it deducts income tax via PAYE. The pension contribution doesn't reduce the amount of earnings subject to NICs.
NON TAXPAYERS WILL NOT RECEIVE TAX RELIEF AT SOURCE USING THIS METHOD
Higher and additional rate taxpayers WILL AUTOMATICALLY OBTAIN tax relief
OPTIONS & FUNCTIONALITY
ONLINE ACCESS
Is online access important to your employees?
Not every pension provider has online access for members, although they will send out annual benefit statements.
Online access can provide employees with:
Up to date pension fund value
Pension fund data
Pension contribution records
Retirement income calculators
"What if" planning tools
FUND CHOICE
Is a wide range of investment funds important to your employees?
Data from the Department of Work and Pensions reveals that over 80% of members in defined contribution schemes opt into a default fund and stay there. We would estimate that auto-enrolment will see this figure rise to nearer 95%.
This means that 5% or more of employees will want to invest in an alternative to the default fund.  Most pension providers have a range of investment funds available allowing members of your scheme decide to choose their own investment funds. They may have to pay additional charges for investing in these funds.
TRANSFERRING OLD PENSION BENEFITS
Every time someone changes jobs they will usually join their new employer's pension scheme. But what happens to the pensions left behind? Over time employees may accumulate a trail of old pensions that they may find difficult to manage and keep track of.
If the ability to transfer old pension benefits into your new workplace pension scheme is important then this must also be considered when choosing a scheme.
FINANCIAL STRENGTH & GOVERNANCE
It's important that workers' interests are protected even if they do not regularly make active decisions about their pension savings? Workplace Pension Direct have due diligence criteria designed to ensure that any pension providers we use are financially sound and have robust governance procedures.
ADMINISTRATION UPDATE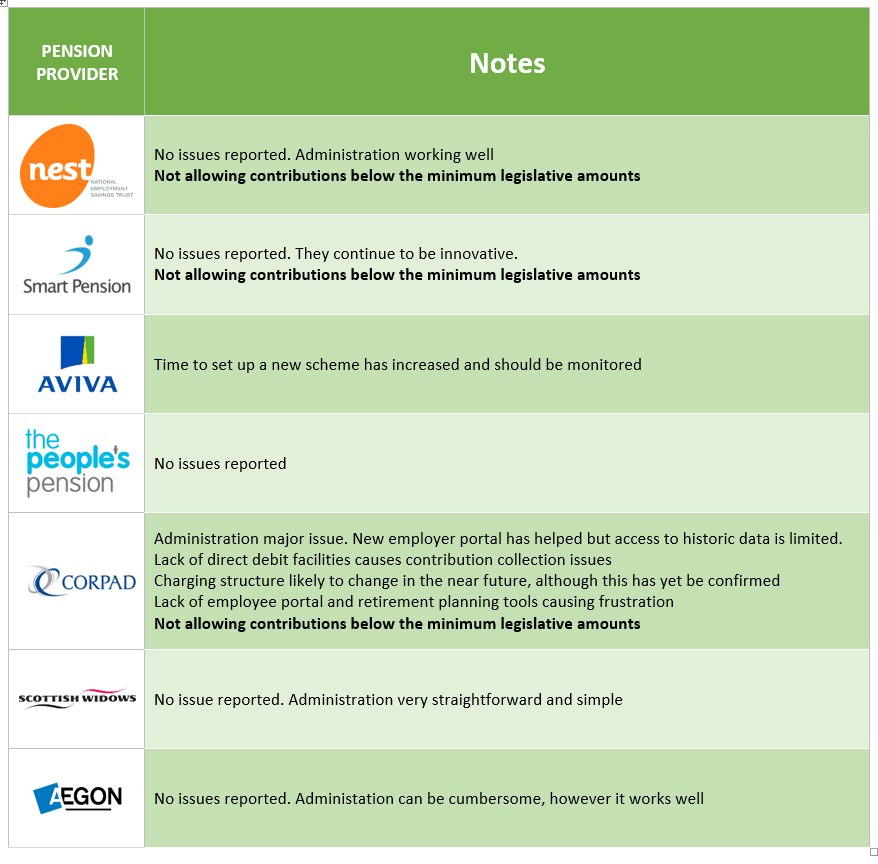 PAYROLL SOFTWARE
An integral part of the automatic enrolment process is making sure that details of new members & pension contributions are forwarded to your pension provider and payments made before the regulatory deadlines.
Although not essential it is important that your payroll software can easily be set up to provide the data to the pension provider you choose.
Most pension providers have worked closely with various payroll providers. Some have direct links from payroll to the pension provider. As there are over 100 different payroll software packages available please contact us if you have any questions about your own particular software.