Updating SAGE 50 with the new minimum pension contributions from 6th April 2018
THE LEGISLATION
Employers are responsible for ensuring that any pension contributions deducted from earnings after 6th April 2018 are at least equal to the minimum amounts laid down by the legislation.
SAGE 50
Updating the pension deduction process manually within Sage is a simple administration process within your software
If any of this information is unclear or you need any assistance, call our office on 0113 457 4574. You need to update before your first pay run of the 2018/19 tax year.
STEP BY STEP GUIDE
1. In your software go to "Company on the bottom left of the screen.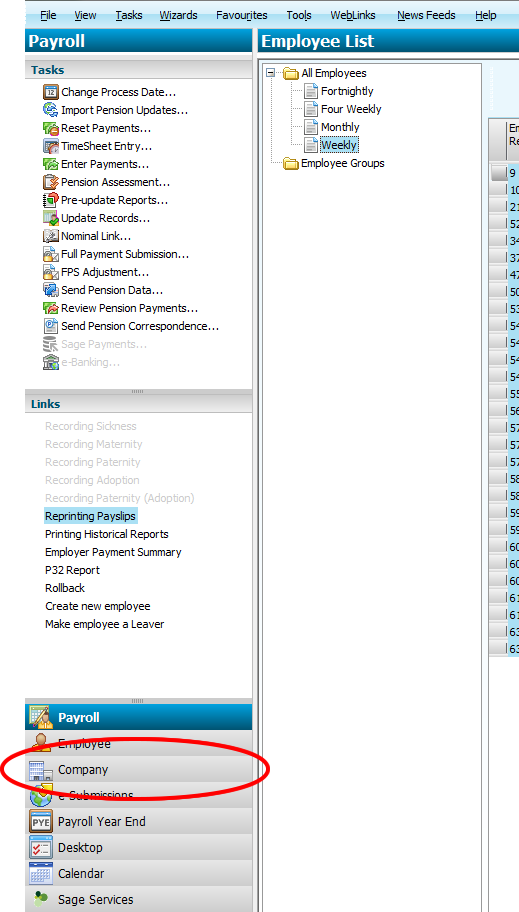 2. Click on "Pension Schemes" on the top left, this will open a dialogue box which shows the pension schemes set up in Sage (you may have a long list of Pension Scheme 1 through 15 or so) Click on the relevant scheme, this should be the first one. Then click "Edit"
In the pension scheme settings please click into the "Employer" tab and overwrite the percentage to 2.00%. In the employer tab overwrite the pension tab to 3.00%

3. Click "OK"
IMPORTANT: If any employee is on specific percentage rates a result of requesting to increase percentages then it is important to go into the employee record – pensions tab – Manage Schemes – Edit and ensure their rates are kept the same or matched to the legal minimum. It is also advised to ask any employees who have increased their own contributions if they are happy at the new legal minimum or if they would like to increase their own contribution further.
For any employers who contribute more than the legal minimum you will need to go into the same page and ensure the contributions are kept at the same rate, moved higher or to the new legal minimum rate. You will need to do this on each employee record individually, there is no option to make global changes.